The Strong Bones Smoothie is high in calcium and other nutrients that are important for bone health. This smoothie contains over 700mg of calcium which comes from milk, Greek yogurt, and sesame seeds.
Bananas, oranges, and strawberries are fruits that contain not only calcium, but also potassium and vitamin C which are needed for bone health.
Collard greens contain calcium, magnesium, and vitamin K which are important for bone health.
Drink the Strong Bones Smoothie anytime during the day for a smoothie high in calcium to help keep your bones strong.



Yield: 1 Smoothie (16 fl oz)
Strong Bones Smoothie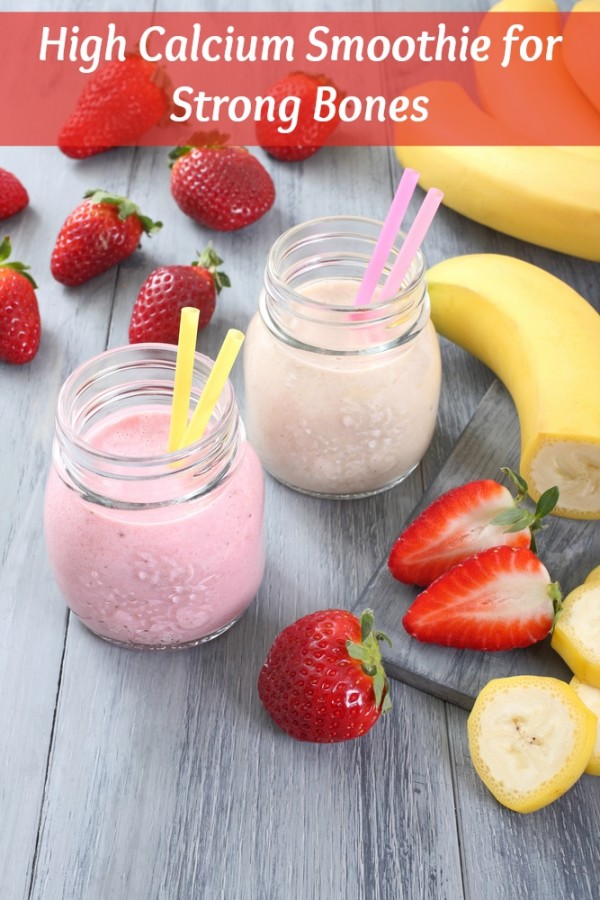 A smoothie high in calcium and other important nutrients needed for strong bones.

Prep Time 5 minutes

Cook Time 5 minutes

Total Time 10 minutes
Ingredients
8 fl oz fat-free milk
1/2 cup plain nonfat Greek yogurt
1/2 cup collard greens
1/2 medium banana
1/2 medium orange
3 medium strawberries
1 tbsp sesame seeds
Instructions
Combine all of the ingredients into the Nutribullet cup.
Pour in the fat-free milk to the max fill line.
Blend together until smooth and consistent.
Nutrition Information:

Amount Per Serving: Calories: 342 Total Fat: 6g Saturated Fat: 1g Trans Fat: 0g Cholesterol: 5mg Sodium: 172mg Carbohydrates: 50.5g Fiber: 9g Sugar: 33g Protein: 25.5g